The current business scenario demands to be empowered by analytics. To be honest it's not a matter of choice anymore it is a necessity, to stay ahead of the competitive edge.
An organization's analytical endeavors and their outcomes are only as good as their data is. Analytics appears to be about visualization, dashboards, predictive analytics and better decisions, but the most crucial part of any analytics initiative is Data. It is pretty evident that to leverage analytics and insights for outlining business goals, businesses need to be equipped with good quality, relevant data.
The rise of self-service tools has empowered businesses with the capabilities to run their own analytics projects yet data remains to be the main reason for holding these initiatives back. Data is too often ignored for impurities and flaws, eventually leading to an unsuccessful, unsatisfactory and low ROI BI projects.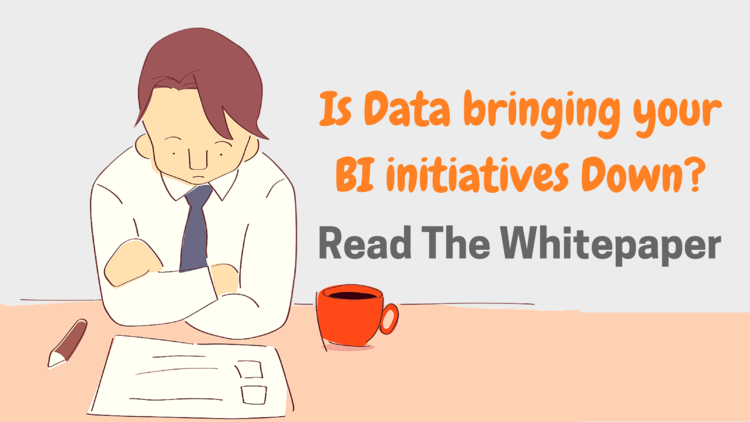 In pursuit of data-driven goals organizations want more and more users to leverage business intelligence (BI) and analytics. The hurdle in the way is data preparation is a dreary, time-consuming, complex and thus inefficient. USEReady has come up with a white paper that examines the most intricate challenges with data preparation and converses the right technology and best practices to overcome them.
Non-IT users seek smarter self-service tools that enable them to be armed with faster data preparation techniques with minimal dependencies on IT department. They are tired of tedious data preparation processes that devour precious business hours and lead to inefficiency and declining productivity. Some common challenges users and business face with data are:
Limitations of existing architecture
Lack of agility
Dependence on IT teams
Disparate data sources
Data quality concerns
Traditional data preparation methods
Excessive time and resource consumption
Incompatibility of data with BI tools
Accessibility and Scalability constraints
Poor Analytics governance
In this Whitepaper we thoroughly discuss the pain points related to data in BI initiatives and the reasons that cause them. The rapid evolution of several self-service tools seems promising but who validates what's right for an endeavor of a particular nature. We will also discuss the right approaches, strategies, and tools that help organizations to understand data challenges and get to the root of the cause. In this document we also discuss:
How to address specific data challenges?
How to systematize steps for data sharing, transformations, and analysis?
Which tools to use?
How to indulge with Self-service tools?