The Death of Traditional BI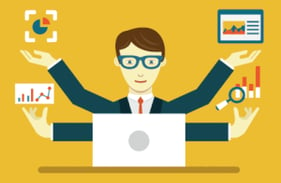 Access to BI is what gives companies their competitive edge and allows them to discover new business opportunities. Yet, in too many organizations, a lot of decisions are still not based on business intelligence because of the inability to keep up with demand for information and analytics.
Business needs are constantly changing and the traditional business-centric and IT-centric BI models are unable to match the speed at which these changes are happening. A new model that encompasses business and IT staff, enterprise and divisional boundaries and top-down and bottom-up BI is the need of the hour.
Self-Reliance Business Intelligence
The goal of a self-reliant BI ecosystem is to create a scalable and sustainable analytical culture and a mature data management environment. Here the information workers would be far more self-reliant and invent smarter ways to do old jobs, launch new products, offer new services, and discover new ways to attract customers.
Information workers can create and access specific sets of BI reports, queries, and analytics themselves—with minimal IT intervention. Self-reliant BI environment promotes self-sufficiency where source data is easy to access, easy-to-use BI tools, less dependency on IT departments, and support for data analysis. Data warehouses are easy to deploy and manage with simpler and customizable end-user interfaces. With most of the self-service BI tools available in the market like Tableau and Alteryx, the analytics can be generated in an easy-to-use, easily-accessible format and delivered to a device and user interface of their choosing.
Self-reliant BI is great, but is it practical?
Self-reliance BI would give users more control and make the IT department's job easier. But there is a flip side to it, the same users can tax the system in ways that the system may not be ready to handle.
Access Control
Monitoring is a troublesome area in this model. A typical large enterprise, having roughly 10,000 employees and about 200 business analysts, each analyst creating 3-4 reports and data analyses, would end up with more than 500 reports periodically. When so many people have access to your data store, how will you monitor the access?
Volume, Time & Expense: Giving analysts access to the data store could also quickly overload the database. When executives want to make an informed business decision, they would want the correct data in their hand. If data is being handled by hundreds of analysts, how can you know if you have the complete picture? Very soon sieving out the relevant data would become a time consuming, expensive exercise.
Data Duplication & Transfer
The above scenario applies here as well. Each analyst in your organization will be creating 3-4 reports which mean over a 500 reports are generated over a period of time. This could cause a lot of duplication of effort. And then what if an analyst leaves the company? Will all his work be lost? How much effort would it take to transfer his work to another analyst?
Compliance
Self-reliant BI model could also create compliance issues. It is not easy to ensure that the reports delivered are secure, standardized, accurate and in full adherence to the existing policies. A lot of time and costs are involved in testing compliance controls.
There are a lot of theoretical benefits of self-reliance BI; but to make it a reality, you need to reconsider your governance and security practices.
Need of the hour - Self Reliant BI Governance Platform
Self-reliant BI is not one complete BI solution. It is really a blend of the various components bolted onto an existing BI solution in order to make it more user-friendly. Yes, you need trained people and standard practices. But, the need of the hour is a governance platform, that will integrate all the parts into one working, scalable model. A platform-centric approach to BI governance is a solution to all the self-reliance BI implementation issues.
USEReady ONE User Interface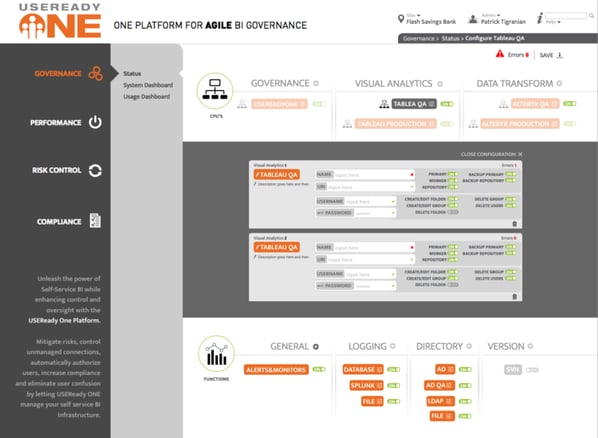 A governance platform like USEReady-ONE can seamlessly bring all the parts together and help create a self-reliant environment. USEReady-ONE provides active oversight and security to underlying BI infrastructure and data sources which help mitigate risks, increase compliance, control unmanaged connections and eliminate confusion. This, in turn, accelerates end-user adoption which means business users can now own their data and develop their own insights.
About the author: This post is brought to you by a USEReady #HappyDataGeek. Learn more about USEReady. Also, check out Analytics Weekly.