Tableau presents the 9th annual Tableau conference (TC16) that will once again, bring together analytics vizards and exhibitors from all across the globe for a 5-day data extravaganza. The event will be an amalgamation of inspiring keynotes, extensive hands-on trainings, tons of networking opportunities, and much more.
Scheduled to happen at Austin, Texas from November 7-11 2016, the event has Tableau fans all pumped up. USEReady being Tableau's service partner of the year will be there too, of course. Filled with conversations on innovations and strategies with data, TC16 will sure be a hotbed for data geeks.
VISIT USEREADY BOOTH # 307
In addition to the 5 days of learning from Tableau experts, partners, and customers, you can come meet the gang from USEReady at booth number 307. Apart from being huge Tableau fans, we are Tableau's Service Partner of the Year 2015. To add spice to the annual extravaganza that awaits us at Tableau Conference 2016 in Austin Texas, USEReady is conducting a super cool raffle, like every year.
DRUMROLL …..
We are RAFFLING a TESLA*
IT IS COOL, IT IS FAST, IT IS GORGEOUS!
So make sure to visit booth #307 to PARTICIPATE IN THE RAFFLE.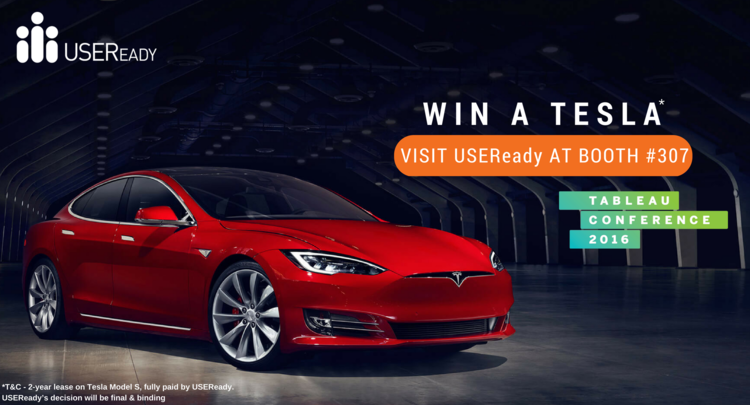 Don't miss out on the action. Pre-register here.
EXCLUSIVE DEMOS, SOLUTIONS & MORE, ALL @ BOOTH 307
While you are at the USEReady booth, meet our experts, and strike up a conversation about anything related to Business Intelligence. They will be available to answer your questions, guide you and help you with anything around:
Tailor-made, domain and use-case specific BI services
Web data connectors for cloud, on-prem & proprietary data integration
Business-ready applications and workflows for faster data prep
Visual data discovery - rich, insightful, actionable dashboards
Dashboard performance optimization
Dashboard aesthetics/ branding Improvements
BI-ready, modern data warehousing
Architecture and deployment
Server deployment and upgrades
Secure collaboration - SSO & embedded analytics
Analytical governance - USEReady ONE
End-user adoption/ Tableau Drive implementation
Innovative delivery methods - Expert Helpdesk & Extended Team
Customized training programs and best practices
THROWBACK TO WHERE WE LEFT
In our memories of Tableau Conference from last year, crowds thronged USEReady's booth and walked away with amazing gifts and prizes. In 2014 we gave away a kick-ass, super-cool Harley Davidson motorbike won by a handsome data geek. In 2015 a pretty lady won an AC/DC guitar which totally complimented the musical side of her.
At previous TCs, USEReady showcased comprehensive enterprise-ready BI solutions that enable companies to establish a culture of measurement - where decisions are fact-based, timely and actionable. Along with which USEReady ONE was also demonstrated, first of its kind governance platform to govern and manage large Tableau setup.