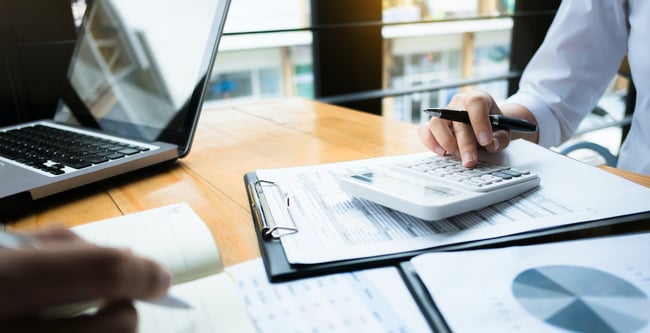 Financial Services—Why Rely on Innovative BI Tools in 2021
As the global economy continues to reel from the continuing chaos brought about by health and political threats worldwide, banks and financial-service organizations are being pushed and pulled on all sides by new regulations and mounting expectations in the face of monetary uncertainty.

For example, the Consumer Financial Protection Bureau (CFPB) has finalized new regulations concerning records and information disclosure. A Deloitte report notes further new rules that changed how bank regulators tailor institutions under Enhanced Prudential Standards (EPS): "The EPS tailoring rule fine-tunes requirements for capital, stress testing, liquidity, large exposures, and reporting based on financial metrics that serve as a proxy for a firm's size, complexity, interconnectedness, and systemic importance."

Other new regulations include a modified Volcker Rule tailoring requirement that addresses the size of trading assets and exemptions for community banks. All of these regulations are in addition to the evolution of rules addressing anti-money laundering records and suspicious activity reports.
The Need: Next-Level BI Tools
Clearly, banks and financial services organizations need an innovative tool to stay above the torrent of growing regulations. They need the power of modern business intelligence (BI) tools. That's where Pixel Perfects shines.

Pixel Perfect offers a dynamic toolkit to super-charge the reporting process. Not only does Pixel Perfect complement the Tableau Dashboard, but it also leverages the data you need, when you need it, to generate compliant reports.

With Pixel Perfect, your team can format reports the way they want. You're in control, with powerful reports featuring headers, footers, pagination, page numbers, images, tables, and listings. Pixel Perfect also offers superior versatility in exports, including popular formats such as PDF, MS PPT, MS Word, MS Excel, CSV, HTML and JSON.

Distributing compliant reports has never been easier. Choose your method: emailed, or saved to a network drive on a scheduling basis or ad-hoc. Ready to share your reports with your stakeholders? No problem. Pixel Perfect reports are ready to be printed for both internal and external audiences.

Finally, users can control the information that needs to be exported by applying focused filters and selecting across views.

The Requirements: Types of Reporting
As already noted, the banking world faces a constant blizzard of reporting requirements at every level of government. Pixel Perfect helps organize and make sense of any reporting use case, including the following:
CECL Reporting is a credit loss accounting standard issued by the Financial Accounting Standards Board as of June 2016. The CECL requires financial institutions to record expected losses based on estimation over the remaining life of its loans, as opposed to incurred losses of the current standard.
Volcker Reporting restricts American banks from executing or making certain types of speculative investments if they do not benefit the bank's customers.
Crosstab Reporting, also known as a contingency table, is a matrix format report displaying multivariate frequency distribution of variables. Crosstab summarizes the relationship between categorical variables and provides business users with an overview of the relation between two variables.
Anti-Money Laundering (AML) Reporting comprises a set of laws, regulations, processes and procedures designed to prevent criminals from legitimizing illegally obtained funds, generally analyzed via precision software to uncover suspicious transactional patterns. To help identify money laundering, the AML requires banks to file a suspicious activity report if such an instance is noticed. Institutions face massive fines if they fail to correctly file them.
Dodd-Frank Reporting is a federal law passed in response to the 2008 financial crisis. The law established several new government agencies tasked with overseeing an increased amount of documentation requirements. Needless to say, the law adds a mountain of forms and reports to an already strained administrative department.
Basel Committee on Banking Supervision Reporting is an international banking supervisory committee formed to develop standards for banking regulation. Its main objective is to improve understanding of supervisory matters and enhance the quality of banking supervision around the world.
UCC Financing Statement is a legal notice filed by creditors used to publicly declare their rights to potentially obtain the personal property of debtors who default on business loans.
The Solution: Pixel Perfect and Tableau
These are only a few of the thousands of reporting regulations faced by financial services and the banking industry. As an added challenge, these reports are often required at scale with a minimum margin of error. Obviously, this can be prohibitively expensive in terms of time and money.

Pixel Perfect is the antidote to the regulation blues. With Pixel Perfect, your bank can generate pre-populated, perfectly formatted, print-ready reports at scale with the click of a button. Because it's so easy to migrate and use, Pixel Perfect is, well, perfect for a bank or institution looking to sunset traditional BI tools. Effectively adopting Tableau for all ad-hoc reporting requirements has never been easier.

Ready to take the next step in next-generation reporting tools? Request a demo of Pixel Perfect today.