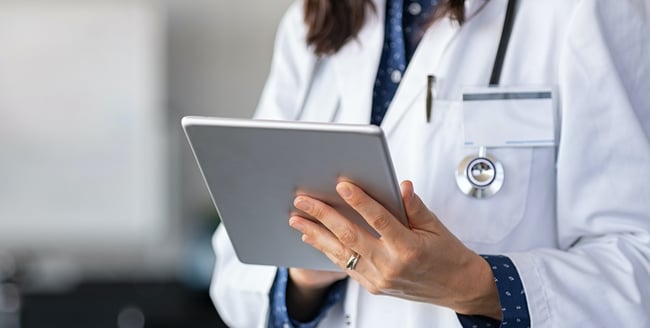 Healthcare Industries Rely on Timely Reporting Now More Than Ever
With the healthcare sector already facing a whirlwind of unprecedented disruption due to the COVID-19 pandemic, industry stakeholders struggle to address these daily crises' while also tackling an ever-growing stack of reporting requirements and regulations.

With the U.S. Supreme Court poised to rule on the validity of the Affordable Care Act, the healthcare industry exists in a sort of limbo right now when it comes to predicting future regulatory changes. What's required in 2020 may well be overturned in 2021.

No matter what changes may come—including the transition to a new administration—health agencies will continue to require accurate and timely compliance reports across the board. Companies will continue to face the prospect of creating, processing, and distributing these reports or face stiff fines and penalties.

Though the future may be uncertain, it's clear that healthcare providers must apply intelligent, modern, seamless solutions to these evolving reporting requirements. Deloitte's 2020 Health Care Regulatory Outlook offers this sage advice to stakeholders:
"[Healthcare] companies should continue to modernize and rationalize their regulatory, legal, and compliance functions and their practices. A modernized compliance function can help achieve compliance as efficiently and effectively as possible by ... harnessing leading compliance practices and technologies to comply with current and future regulatory requirements."
The report concludes: "Some companies are even looking at their regulatory and compliance risk management programs as a competitive differentiator that enables them to be more nimble in the marketplace."

As we've seen before, clunky, outdated legacy business intelligence (BI) tools just can't hack it in a disruptive environment. Pixel Perfect, however, can empower healthcare companies to not only survive the brave new world of compliance, but also thrive in it.

Use Cases
Although a blog post can only scratch the surface when it comes to discussing compliance reporting, here are some of the most pressing reporting requirements generating the most common use cases:
Regulatory inspections reports stem from Food and Drug Administration specifications and guidelines and are designed to evaluate and validate the integrity of data that's submitted to concerned healthcare authorities. Reporting details cover a medical device's site inspection with site status, approval information, inspection information and observational summaries.


A national surveillance report is a mandatory regulatory filing for the purpose of gathering information to better monitor the safety of a prescription medication or medical device. Report categories include spontaneous reporting databases, prescription event monitoring, patient registries, electronic health records, and record linkages. Like many reports, it must be recorded in formatted specifications as directed by the specified regulatory agency.
Clinical trial safety reports serve a twofold purpose. First, they collect safety data from multiple clinical trials that help detect safety signals, develop safety profiles of a given drug, and protect patients from unnecessary risks. Second, the reports track the serious adverse reactions and events of clinical trials. Trial reports have become especially vital as drugmakers rush to develop an effective and safe

COVID-19 vaccine

. The reports may also include medically relevant safety label information for products under development.
A clinical trial summary report details clinical trial results of a product or medical device. Healthcare providers must submit a summary that includes different types of collected data transformed into analyzable datasets that help address specific questions within the report. A subset of the data from the analyzable datasets is used to generate results, tables, and figures for published articles. These reports are submitted in formatted specifications as directed by the concerned regulatory agency.
Because each of these reports is vital to the health and safety of patients, each must conform to the highest standards of accuracy and precise formatting. When required at scale and with a minimal margin for error, these reports can be highly challenging and time consuming for healthcare providers to generate.

That's where Pixel Perfect comes to the rescue as the modern BI champion of compliance reporting. Working within Tableau, Pixel Perfect offers simplified, lightning-fast reporting.

Users stay in control of every required step and component. The result? Perfectly formatted, print-ready PDF reports at the click of a button—all within the Tableau dashboard.

With Pixel Perfect, output reports adhere to all business specs—business logos, headers, and footers. Tables, listings, and figures (TLFs) can be paginated as an inspection summary with subheaders in several types of views, including geography. Pixel Perfect also includes an On-Demand option with a hosted service operated directly from the Tableau Server.

The future of healthcare regulatory reporting may be murky—but the present is crystal clear with Pixel Perfect. Try a free demo today.