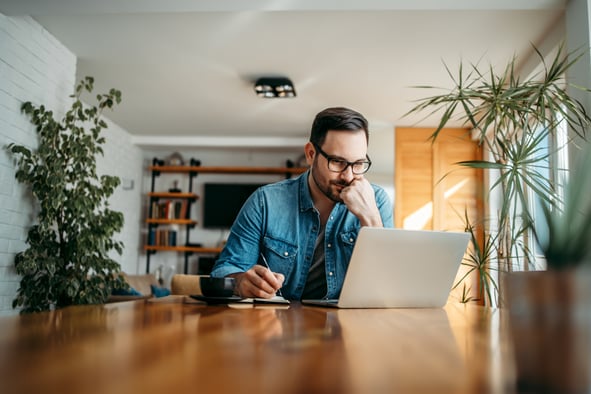 Five Reasons to Shift to a Modern BI Tool
Legacy business intelligence (BI) tools are holding companies back.
Legacy BI solutions were developed in the days of expensive hardware and massive databases, before the internet programmed us to expect immediate results. Some of the drawbacks of using legacy BI tools include delayed implementation, hidden costs of services, high failure rate, low user adoption, slow response, and user frustration. BI services' hidden costs include paying consultants to work on data integration and customizing the tools to the customer's needs.
Fewer than 30 percent of BI projects meet the objectives of the business, according to Gartner's research. That means that more than 70 percent fail to meet business objectives. That's a big-time failure rate. Unfortunately, vendors often don't deliver on their promises.
Adoption rates of BI platforms are often low due to usability issues with the user interface. In addition, only a small number of employees are qualified to generate BI reports, creating a BI-report bottleneck. Companies need a better way to collect and process data and generate BI reports. This is where a modern BI tool comes in.
Five Reasons
Companies Should Shift to a Modern BI Tool
Self-Service BI Tools
Increasingly, companies are looking to step away from IT-dependent BI, allowing a greater role for non-technical business users. Gartner expects more than 40 percent of data science tasks to be automated this year. This will result in increased productivity and broader usage of data science. Automation makes it easier for non-technical data scientists to access the data they need for their work. This creates access to more data sources and a broader and more sophisticated range of analytics capabilities, and empowers employees.
Increased Performance
Internet users generate about 2.5 quintillion bytes of data each day. The average company manages nearly 163 terabytes of data, with that number jumping to more than 347 terabytes of data for a large enterprise. Ninety-five percent of businesses say managing unstructured data is a problem for their business. To handle this data volume and avoid outdated insights, a modern BI platform must be able to analyze this data quickly and accurately.
Deployment Simplicity
Procurement is just the beginning of legacy BI tools, because companies then must set up servers with the right architecture. BI and other major IT projects often take longer and cost more than initially planned. On average, major IT projects run 45 percent over budget and 7 percent over time, while delivering 56 percent less value than predicted. By contrast, the deployment process is far easier and less costly with modern BI platforms, especially those located in the cloud.
Visualization
A modern BI solution can make it easier for people to get the details they need and create their own visualizations. Users benefit from a variety of connectors to join and visualize the data that interests them. With an increase in access to high volumes of data, seeing the right data in a quickly digestible format provides business insights and leads to reliable business decisions.
Artificial Intelligence
The United States is projected to face a shortfall of some 250,000 data scientists by 2024, according to management consulting firm McKinsey. Data science and analytics jobs usually require 45 days to fill. The skills gap and longer hiring times can cause project delays and higher costs, hindering data analytics efforts. This means that organizations might not be able to fill their data scientist positions in a timely fashion, while small and medium-sized businesses who opt for modern BI solutions will surge ahead in getting business value from their data.

Tableau as a Leading Modern BI Platform
Tableau is one of the premier modern BI tools out there. The integrated platform is easy to deploy and scale, and it provides modern, self-service analytics with user-friendly visual analysis capabilities. Tableau is easy to understand and quick to drive results, allowing iterative experimentation using intuitive interfaces, such as drag-and-drop and natural language interactions. It also provides enterprise-grade security and governance.
The Tableau dashboard enables non-technical users to create attractive data visualizations in minutes. From prep to analysis, governance and data management, and sharing, Tableau promotes the entire spectrum of self-service research. Whether on-premises, in the cloud, or a flat file, users can work with any form, size, and type of data. Users can directly query data using a live connection or build extracts that refresh automatically on any schedule.
Tableau is simple to deploy and scale, with more than 75 native connections that support hybrid data access. A number of BI users find Tableau optimizes their teams' data collection, organization, and evaluation. Enhanced effectiveness leads to increased revenue, greater customer retention, and reduced costs.
Tableau provides functionality and data delivery capabilities that keep data- and fact-based decision-making as the norm across the enterprise. In addition, the platform puts information in the hands of the right people, including customer-facing employees, to enable better customer service and tailor offerings more precisely.
Export Well-Formatted Reports Out of Tableau with Pixel Perfect
At the same time, there are things that are a struggle for Tableau. Tableau can't print out reports with the granular detail that many users need. It can't produce balance sheet statements; tax forms; risk, regulatory and compliance reports; or approval and other form-based reports.
Pixel Perfect works together with Tableau to solve this problem. It helps users generate print-ready and well-formatted reports that are not available using Tableau alone. Pixel Perfect can print out documents in standard output formats, such as .pdf, .ppt, .xlsx, .csv, .html and .doc. The documents have page numbers, page breaks, and repeatable headers. There is no limit to the number of rows or columns in Pixel Perfect reports, which can be circulated on demand via email or FTP.
There is a clear need for companies to adopt modern BI tools to gain the full advantage of big data, and one of the best BI tools is Tableau, complemented by Pixel Perfect.